Magnolie
Lige siden jeg var helt lille, har jeg altid elsket magnolietræet til trods for at jeg måtte observerer de smukke blomster på afstand. Disse træer står oftest i private haver eller parker og er derfor ofte udenfor rækkevidde for den almindelige sanker. Men da jeg først fandt ud af at mange magnolie sorter var spiselige, har jeg hungret efter at arbejde med dem! Jeg er nu heldigvis så heldig at have en veninde der ejer det flotteste magnolietræ, så jeg kan høste rigeligt! Det kan derfor være en god ide at blive gode venner med en sød magnolieejer, der er villig til at give et par blomster væk.
Magnolietræet stammer oprindeligt fra Sydøst Asien og Amerika. Det er navngivet efter franskmanden Pierre Magnol, han måtte derpå have været en meget smuk mand! Magnolietræet er ældgammelt, jeg mindes i hvert fald at have haft en bog om dinosaurer som barn, der omtalte magnolie som nogle af de første blomster. Magnolie menes derfor at have udviklet sig allerede før bierne for omkring 95 millioner år siden (Crane 1988)!
Magnolie smagen
Magnolie blomster har en helt unik smag. Parfumeret, krydret og minder lidt hen af kanel eller nelliker. Blomsterne kan sagtens spises rå eller hakket helt fint i salater, supper og kager men den foretrukne måde at bruge dem på er at sylte dem. De syltede kronblade har en sød eksotisk smag og kan bruges som krydderi i salater, dips, marinader eller som erstatning for syltet ingefær til sushi. De flotte kronblade kan også tørres og bruges som krydderi på denne måde.
Spiselige arter af magnolie
Der er alt 7 slægter af magnolie med 220 arter i blandt (Elpel 2013). De mest almindelige fra det danske sortiment er Magnolia Soulangeana, Magnolia Stellata og Magnolia Galaxy. De er alle spiselige. Her er en liste over de arter som der regnes for at væres spiselige, med hertilhørende referencer:
Magnolia coco (Kunkel 1984)

Magnolia grandiflora (Kunkel 1984; Facciola 1998)

Magnolia denudata (Kunkel 1984;Facciola 1998)

Magnolia hypoleuca (Kunkel 1984;Facciola 1998)

Magnolia kobus (Kunkel 1984;Facciola 1998)

Magnolia mexicana( Sturtevant 1972)

Magnolia pterocarpa (Kunkel 1984)

Magnolia soulangeana (Hu 2005)
Referencer
 Crane, P.R. (1988). "The phylogenetic position and fossil history of the Magnoliaceae". In Hunt, David R. (ed.). Magnolias and their allies: Proceedings of an International Symposium, Royal Holloway, University of London, Egham, Surrey, U.K., 12-13 April 1996. Milbourne Port. p. 21.
Elpel, T. (2013) Botany in a Day: The Patterns Method of Plant Identification. United states.

Hu, S. (2005) Food Plants of China. Hong Kong: Chinese University Press.

Kunkel, G. (1984) Plants for Human Consumption: An Annotated Checklist of the Edible Phanerogams and Ferns. Koenigstein: Koeltz Scientific Books.

Facciola, S. (1998) Cornucopia II: A Source Book of Edible Plants. Vista, CA: Kampong Publications.

Sturtevant, E. L. (1972) Sturtevant's Edible Plants of the World. New York: Dover Publications.

Standley, P. C. & Steyermark, J. A. (1949) Flora of Guatemala. Fieldiana. Chicago, Ill.: Chicago Natural History Museum.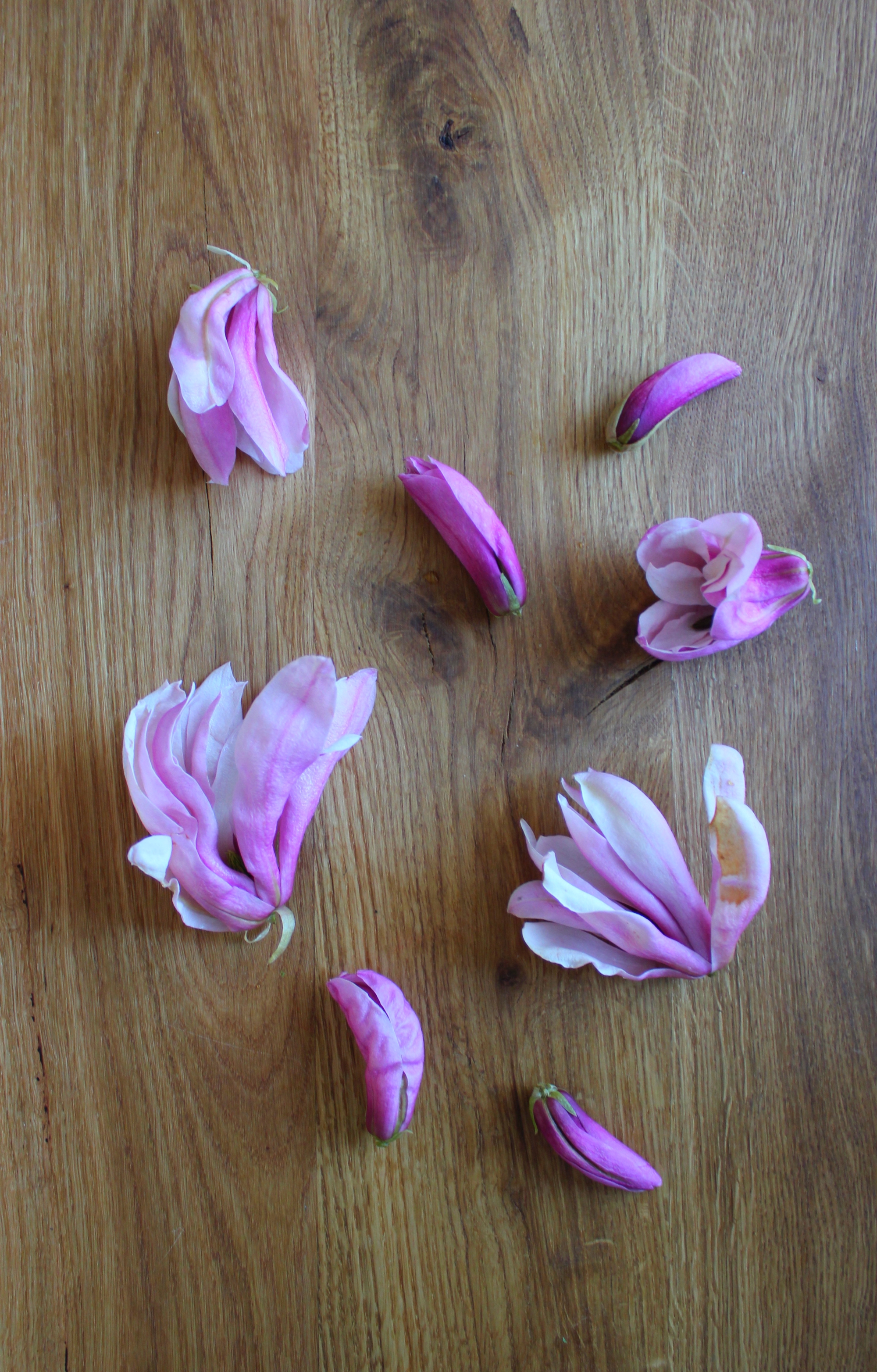 (Magnolia Galaxy)